AMOS 4D Easter Candy to Treat Your Easter
Apr 12, 2022 by Amos Gummy
Happy Easter! Together we're grateful for a God who gives life, who pours out hope and grace for the broken, hurt, and undeserving during this festive. So have you got ready for your Easter Basket? As you already know, our yummy 4D gummy blocks are a hit with kids every holiday season! Whoever is a gummy lover will especially love our Easter 4D gummy blocks as a yummy touch for the Easter basket and also at the Easter table😀.
AMOS 4D Easter Candy Egg Shaped Box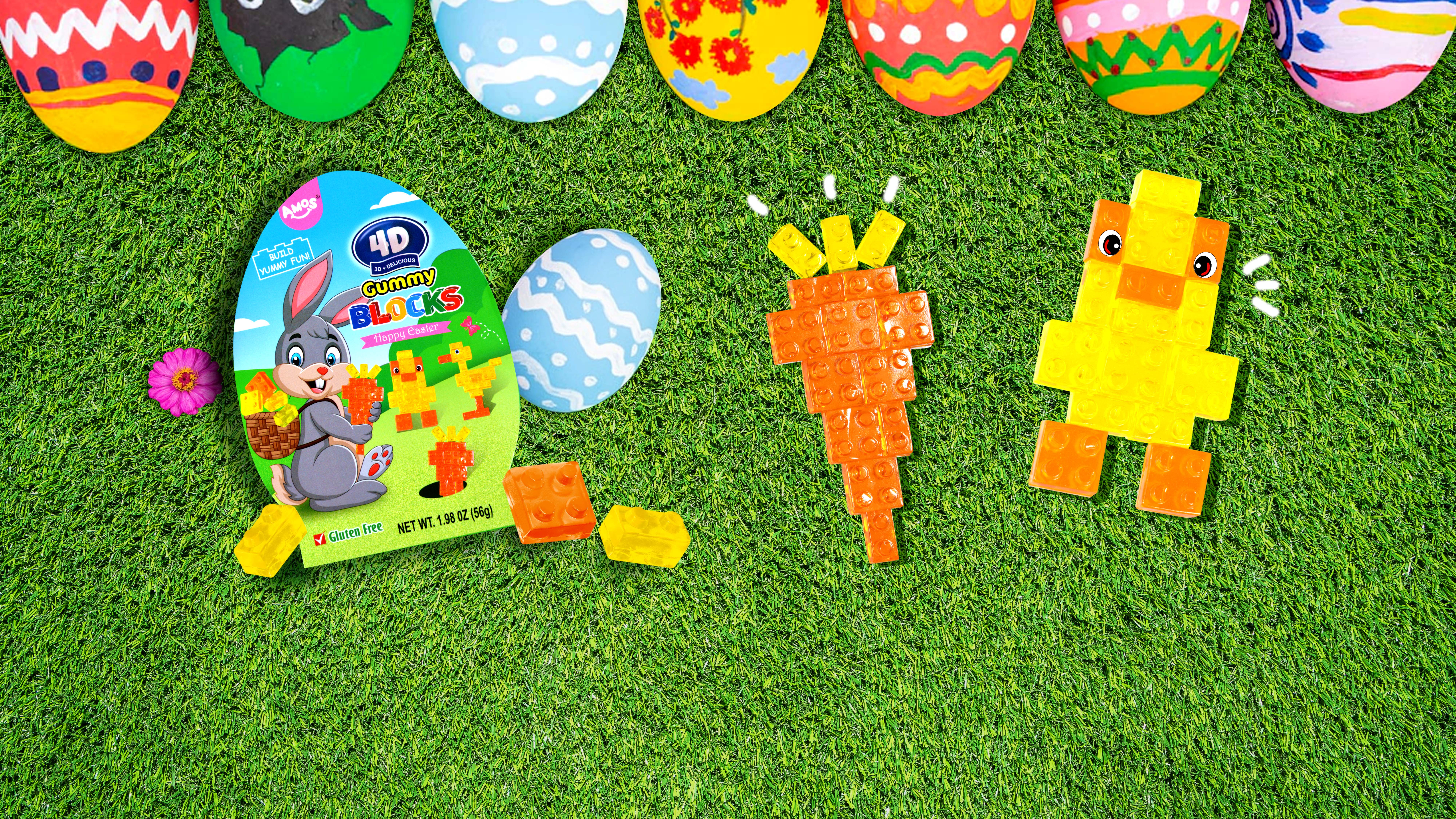 I love all the things brimming with Easter vibes. Eggs are a symbol of rebirth, they have become an enduring part of Easter traditions. AMOS 4D Gummy Blocks Easter egg-shaped box is a perfect match for the holiday.
Stacking the 4D gummy blocks should be the most interactive family activity on Easter. Meanwhile, it is easy for kids to stack an Easter chick, an Easter duck, and an Easter carrot… all of these will unleash the child's imagination and creativity at Easter with our yummy yellow and orange gummy blocks. So it is a perfect way to get your little ones fully involved in Easter!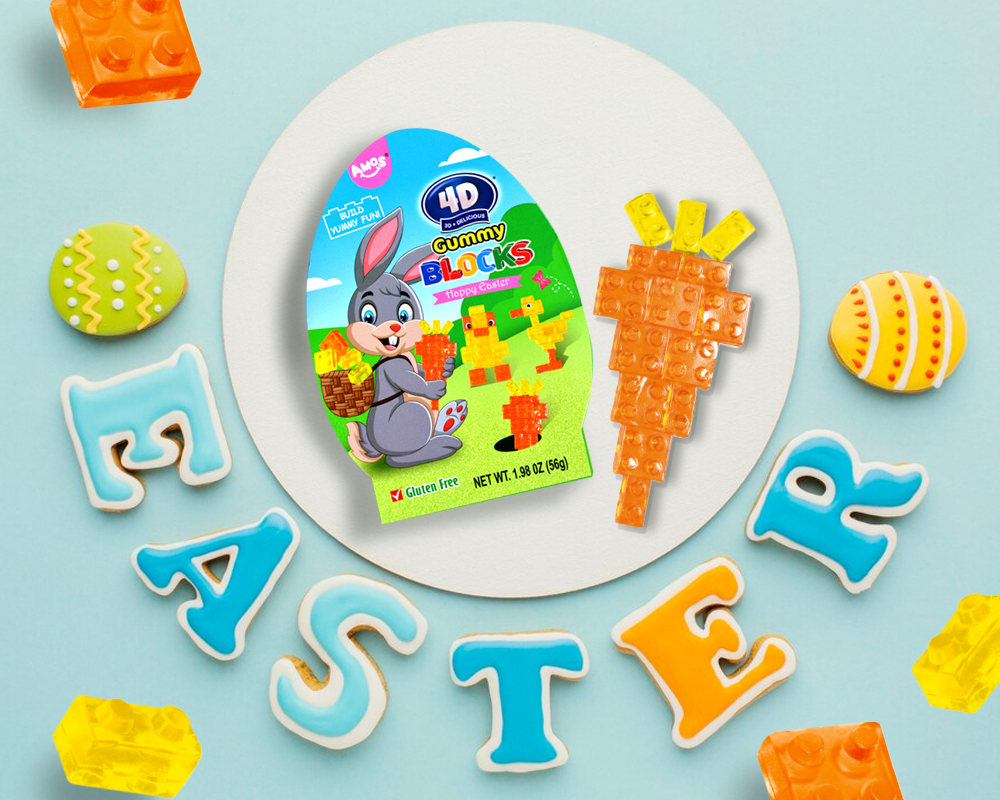 Not only that its rather defined 3D shape is brilliant, but also the fragrant sweet fruity scent is irresistible when you open the candy package. The Easter Bunnies may be also looking for it, and it's no joke! Now we can find it one step ahead of them, and use AMOS 4D Gummy Blocks to add a pop of festival color to Easter baskets.
Moreover, its texture is exactly what you expect with gummy candy, and its sweet fruity flavors can satisfy almost all taste-buds. Of course that it is always a favorite of the Easter Bunny! Why not share these delicious Easter candy gifts with family or friends? And that is why there sure will be some delighted faces this Easter. As far as someone bites it once, they probably can't wait to eat more!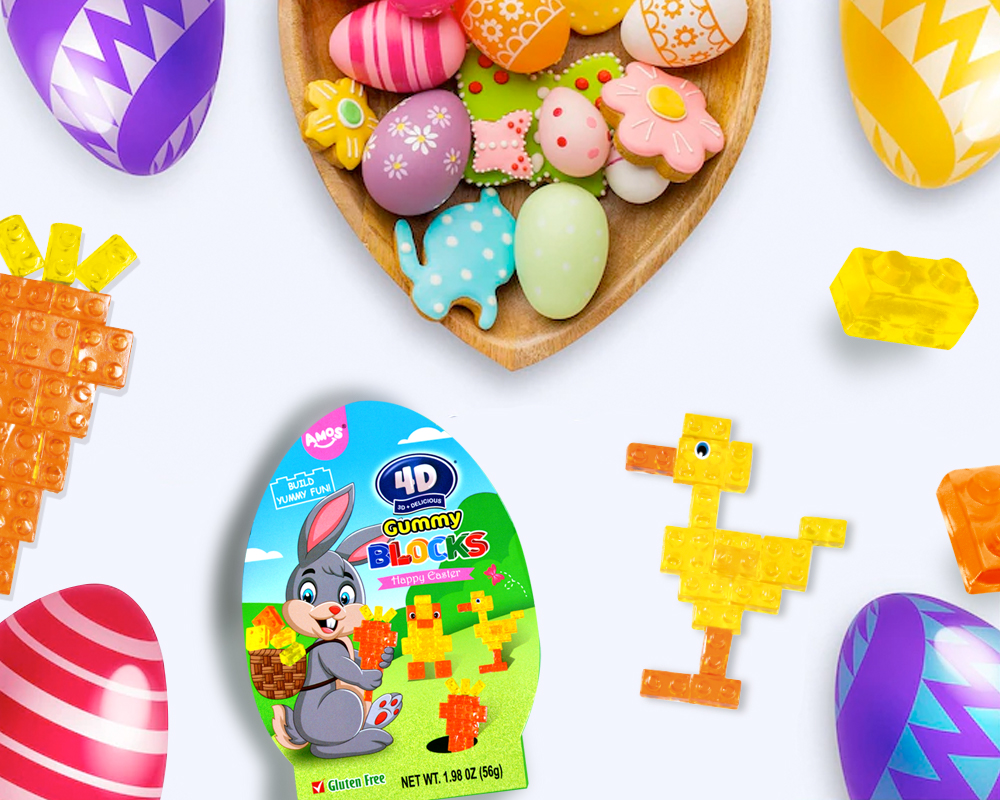 In short, encourage the Easter hostess/host to take Easter treats up a notch with one-of-a-kind yummy AMOS 4D gummies right here this year. So have a wonderful Easter together right now!