AMOS Audio Lollipop Peach Flavor - Happy Birthday (Pack of 2)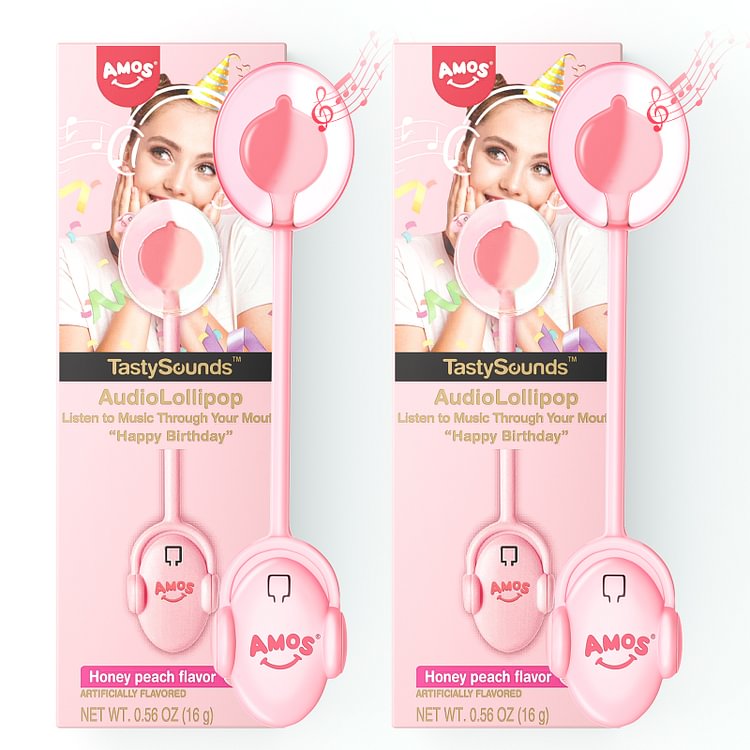 AMOS Audio Lollipop Peach Flavor - Happy Birthday (Pack of 2)
High-tech Bone Conduction

Amos Audio lollipop naturally conbined sweetness and toys in one to satisfy taste, enjoyment, and curiosity. which using high-tech bone conduction by ending music through your teeth to your ears.

Creative Singing Lollipop

This music lollipop automatic singing the song "Happy birthday" when you bite, provide you a unique and surprise TastySounds experience beyone sweetness. What an amazing listening way!
Individually Wrapped Lollipop

Individually wrapped candy suckers are perfect party favors candy for kids birthday party and goody bags. Grab and go kind of amazing singing lollipop for friends or anyone you want to surprise.

Healthy Snacks For Kids & Adults

Mouthwatering lollipop sucker that is a radically better choice. Get the best fat free and sugar free suckers at Amos, which brings your friends or your kids a delicious low-calorie treat.