AMOS 4D Halloween Candy Haunted House (Pack of 1)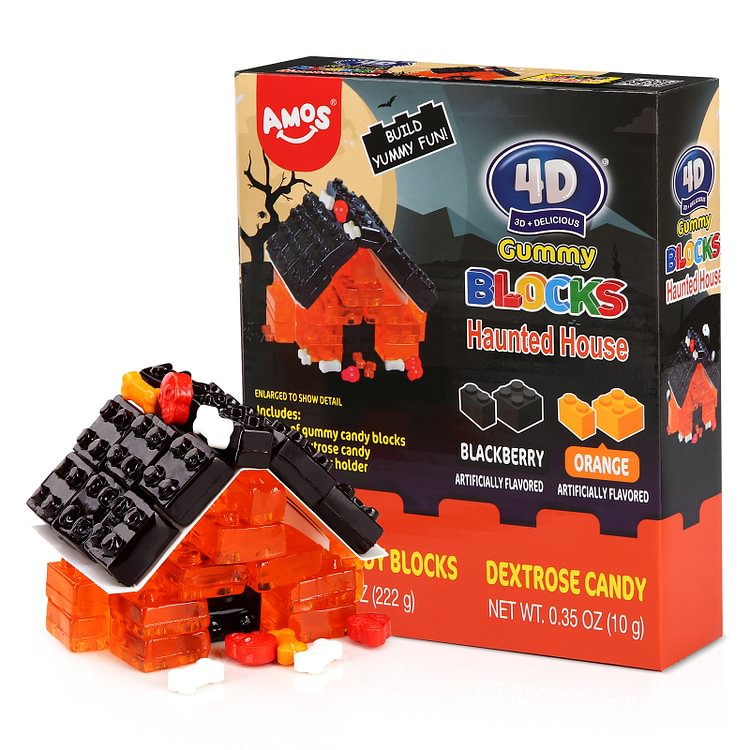 AMOS 4D Halloween Candy Haunted House (Pack of 1)
4D Gummy Blocks Haunted House

Build Yummy Fun! Deliciously stackable 4D Gummy Blocks now come in two flavors blackberry and orange, with bones and skull candy.

Every spooky ghost needs a house to haunt. Hassle-free has everything you need to build it yourself.

Halloween Party Decorations

It's always fun decorating and planning Halloween parties and events, but we know it's hard to find unique special decorations.

Scatter the gummy blocks around the table and have guests play and have fun or finish building it to display for guests to have a unique experience eating candy off a haunted house. Will sure start up many conversations around the party!

Halloween Activity

The best fun is doing spooky Halloween activities, especially with the family.

4D Gummy Blocks is an all-in-one box of fun, play, create, and eat with family and friends. A fresh Halloween activity to add to the festive haunting season! Building it with sweets is what makes it so hauntingly amazing!
PACKAGE
1 bag of gummy blocks, 1 bag of dextrose, 1 paper holder, and 1 pair of disposable gloves are included in the 8.18oz box.
ALLERGEN-FRIENDLY
A chewy variety of gummy candy that is fat-free, cholesterol-free, sodium-free, and gluten-free, but may contain milk or soy. Sweet gummies with a massive flavor.