Want FREE 4D Gummy for the entire month?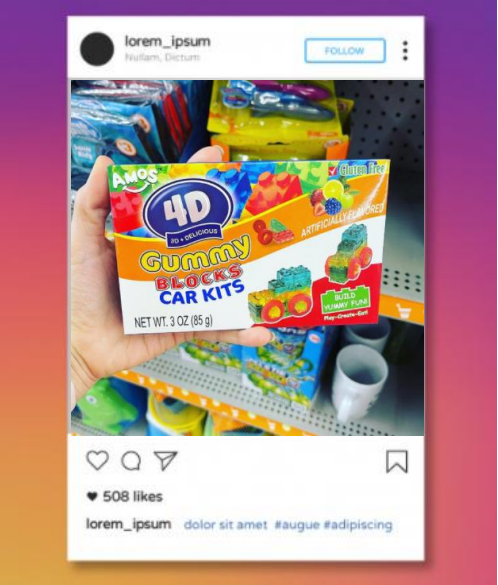 Want FREE 4D Gummy for the entire month?
Post with #BuildYummyFun to knock money off the yummy gummy candies!
June is National Candy Month! My sweet tooth friend, who's ready to indulge your sweet cravings and to win yummy gummies for the entire month?
Easy 2 steps to enter:
Stop by the shelves of 4D Gummy and take a selfie with us( We're now available in Dollar Tree, Family Dollar, IT'S SUGAR, The Fresh Market, Dylan's Candy Bar, and Walmart)
Upload your pictures on Instagram, Facebook, TikTok, or Twitter with the hashtag #BuildYummyFun
NO PURCHASE IS NECESSARY TO ENTER
10 lucky winners will be announced on Wed, Jun 30, 2021, at 11:00 am PDT.
ELIGIBILITY: This sweet sweepstake is open to legal residents of the United States and subject to federal, state, and local laws and regulations and avoids where prohibited by law. Amos Sweets' Employees, suppliers, affiliates, business partners, advertising and promotion agencies, as well as members of Employees' immediate family and/or those living in the same household of Employees are ineligible to participate in this sweepstake
AGREEMENT TO RULES: By entering this sweepstake, the Entrant("you") agrees to abide by the Amos Sweets official rules and decisions, which are fully and unconditionally binding in all respects. Amos Sweets serves the right to refuse, withdraw or disqualify any entry at any time at Amos Sweets' sole discretion. By entering this sweepstake, you represent and warrant that you're eligible to participate based on the eligibility requirements explained in the official rules. You also agree to accept the decisions of Amos Sweets as final and binding as it relates to the content of the sweet sweepstake.
ENTRY PERIOD: This promotion begins on Tue, Jun 8, 2021, at 11:00 am PDT and ends on Wed, Jun 30, 2021, at 11:00 am PDT. To be eligible for the sweepstake, entries must be received within the specified Entry Period.