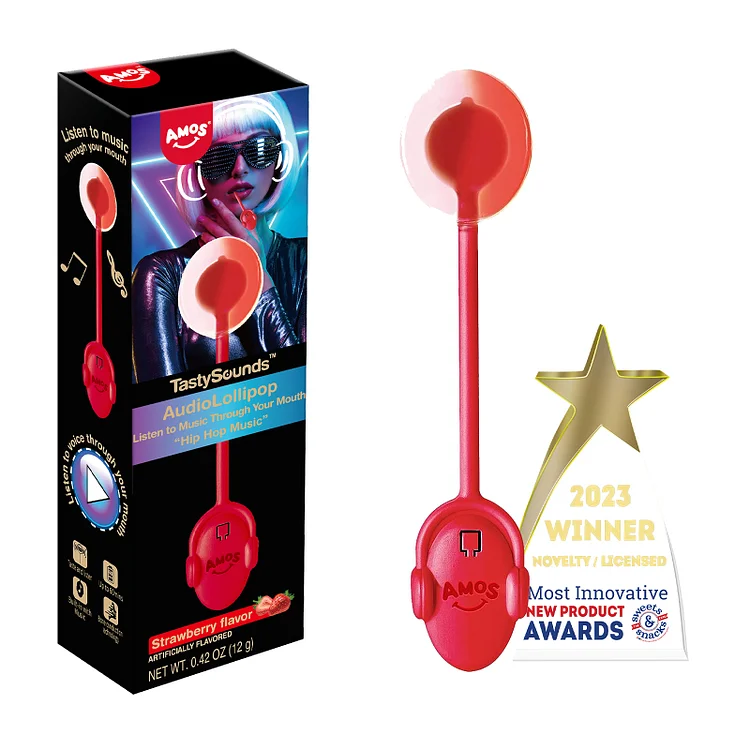 High-tech Bone Conduction

Amos Audio lollipop naturally conbined sweetness and toys in one to satisfy taste, enjoyment, and curiosity. which using high-tech bone conduction by ending music through your teeth to your ears.

Individually Wrapped Lollipop

Individually wrapped candy suckers are perfect party favors candy for kids birthday party and goody bags. Grab and go kind of amazing singing lollipop for friends or anyone you want to surprise.
Strawberry Flavor Music Lollipop

AMOS Audio Lollipop cannot help but make you smile. gourmet strawberry flavor lollipop are perfect combination strawberry's delicate bouquet of fresh, ripe, mixed with the sweet of smooth, what a wonderful taste!

Unique and Creative Gift

This unique lollipop for teens and adults, is a nice gift for boys and girls of older than three years old. It is an ideal choice for the New Year, Birthday, Christmas, Baby Shower, Valentine's Day or any other holiday.
Build Yummy Fun with Amos 4D Gummy Blocks